Lyttelton is a small village on the other side of the hill close to Sumner. It is where the main port for the South Island and Christchurch is. As you can imagine, living on an island a lot of things have to be imported and the port is very busy.
The little village, offically a suburb of Chirstchurch, is a great place with a regular market on Saturday's is a wonderful place to visit. There are also many local celebrations and events. It is a great place with fantastic food, people and atmosphere.
Here are some pics from our various trips to the market and events.
——————————-
Market – we found some foods the boys could eat at the market and we made a habit of going and enjoying these foods on Saturdays.
The best part, I think, is the frozen banana cones, dipped in chocolate.
Bacon Burgers from a butcher who would ensure he had buns that were dairy free for the boys. Cool.
Uncle John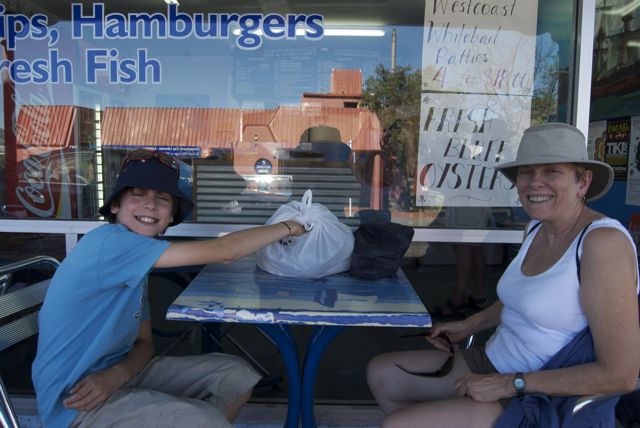 Fish, chips and bluff oysters with Aunt Beth
The cooler, rainy days they have good soups for warming up.
Every weekend in the summer months there is a cruise ship in port, bringing in many visitors. This ship is the largest one to make port in New Zealand.
This town is built on the side of some hils. getting around = getting some exercise.
Sailboats down at the marina.
We went to the light festival in June. This is a great week long event with the final day culminating in a street party with fireworks and all the lights and toys you can imagine.